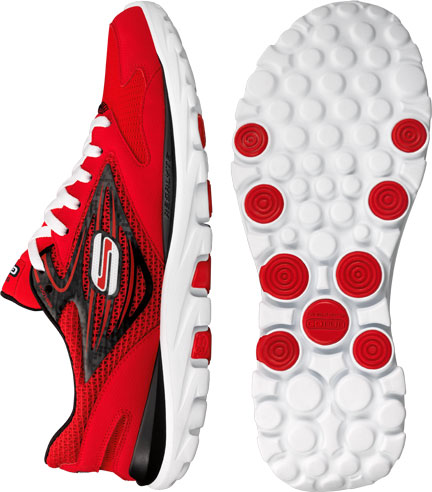 Mouse over shoe to magnify
Skechers GOrun is designed to give you a more natural running experience and to allow you to interact with and respond to practically any surface, while at the same time offering the additional benefit of Resalyte™ cushioning. Skechers GOrun features M-Strike™ technology which fosters a mid-foot strike and GOimpulse sensors for enhanced sensory feedback.
Promotes a mid-foot strike.
Impulse sensors isolate points of contact to deliver sensory feedback.
Radically lightweight with just enough Resalyte™ cushioning to protect on practically any surface.
Brings you closer to a barefoot experience and provides impact protection.
High-abrasion rubber at strike points for extra stability and traction control.


360° RESPONSIVE FLEXIBILITY
skechers GOrun flexes and twists allowing your foot to move more naturally.
RADICALLY LIGHTWEIGHT
No extra material. No extra weight.
MEN'S: 6.9oz
based on Men's size 9
WOMEN'S: 4.9oz
based on Women's size 6

ROOMIER FOREFOOT
Extra space to reduce friction and allow your toes to spread, grip and push off.

RESALYTE
Proprietary lightweight, injection-molded compound with memory retention

M-STRIKE MIDFOOT STRIKE
Curved bottom promotes a mid-foot strike and a more fluid stride.

GOimpulse sensors
Independent circular sensors deliver feedback for a more responsive running experience.